Preparing for childbirth is an exciting and important part of the pregnancy journey. Childbirth classes offer valuable information, tools, and support to help expectant parents navigate the birthing process with confidence. In this blog, we will explore some of the different types of childbirth classes available.
Lamaze Classes:
Lamaze classes focus on natural childbirth techniques and empowering expectant parents with knowledge and skills to manage labor and birth. These classes typically cover various topics, including breathing techniques, relaxation exercises, positions for labor, and the role of a supportive birth partner. Lamaze offers tips for a drug-free birth as well as information about pain medication. Lamaze classes emphasize the idea that birth is a normal physiological process and promote active participation in decision-making during labor.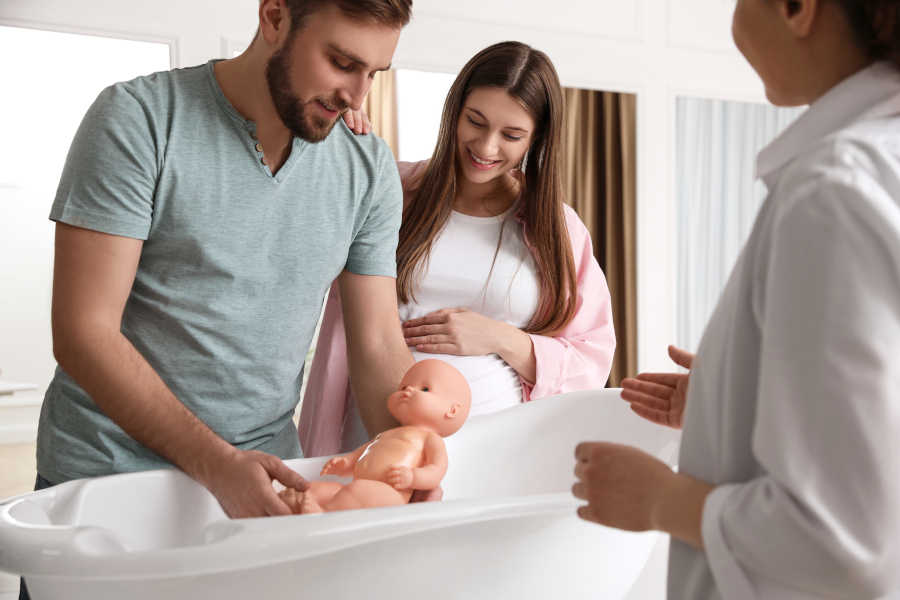 Bradley Method Classes:
The Bradley Method emphasizes the involvement of the birth partner throughout pregnancy and labor. These classes focus on relaxation techniques, deep abdominal breathing, maintaining a healthy diet and exercise routine, and recognizing the signs of labor. The Bradley Method encourages natural childbirth and aims to empower both parents with knowledge and confidence. It teaches your partner how to become your birth coach.
Hypnobirthing Classes:
Hypnobirthing classes utilize self-hypnosis techniques to achieve a state of deep relaxation and reduce fear and anxiety during labor. These classes teach expectant parents various relaxation and visualization exercises, breathing techniques, and positive affirmations to help manage pain and promote a calm birthing experience. Hypnobirthing aims to create a positive mindset surrounding birth and encourage a sense of empowerment. The goal is a low-tech, medication-free birth experience.
Hospital-Based Classes:
Many hospitals and birthing centers offer their own childbirth classes, tailored to the specific protocols and procedures of the facility. These classes typically cover topics such as the stages of labor, pain management options, medical interventions, and newborn care. Hospital-based classes often include a tour of the labor and delivery unit, allowing expectant parents to become familiar with the birthing environment. A class hosted by your specific hospital or birthing center can be especially helpful because they often help clarify hospital policies and procedures (such as exactly what happens when you check in).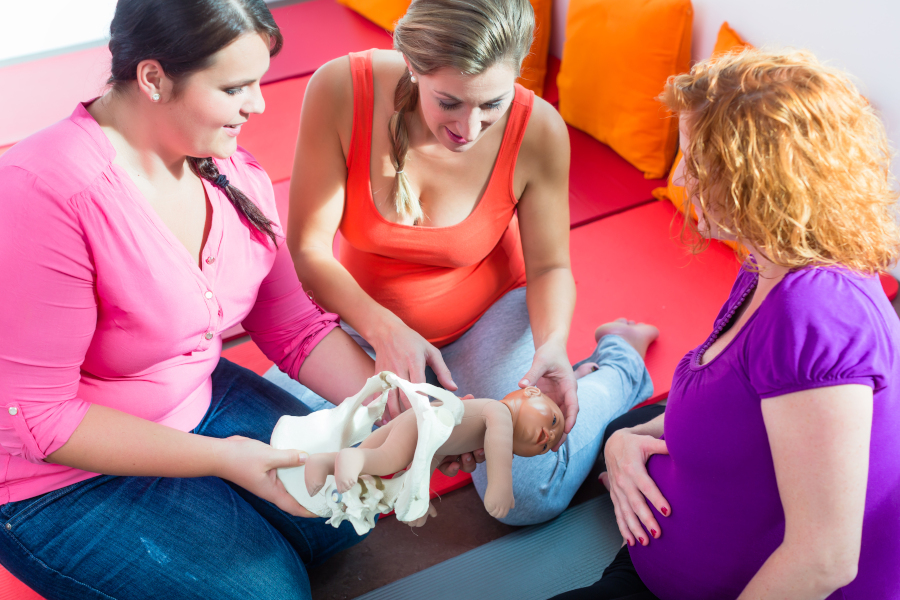 Online Classes:
With the advancement of technology, online childbirth classes have become increasingly popular. These classes provide flexibility, allowing expectant parents to access information and resources from the comfort of their own homes. Online classes cover a wide range of topics, including labor and birth, pain management techniques, breastfeeding, and newborn care. They often include videos, interactive modules, and virtual support networks.
Specialized Classes:
There are also a variety of specialized childbirth classes available to cater to specific needs or preferences. Some examples include:
Cesarean Birth Classes: These classes provide information and support for expectant parents who anticipate or require a cesarean section delivery. They cover topics such as the procedure itself, anesthesia options, recovery, and postpartum care.
VBAC (Vaginal Birth After Cesarean) Classes: Designed for individuals who have previously had a cesarean section delivery and are considering a vaginal birth for their subsequent pregnancy. These classes provide information about the risks, benefits, and preparation for a VBAC.
Teen Parent Classes: These classes specifically address the unique needs and concerns of teenage parents, providing information on prenatal care, labor, parenting, and available community resources.
LGBTQ+ Parent Classes: LGBTQ+ parent classes focus on the specific experiences and challenges faced by same-sex couples or individuals within the LGBTQ+ community. These classes offer support, guidance, and resources tailored to their needs.
Childbirth classes play a vital role in preparing expectant parents for the birthing process. From Lamaze and Bradley Method classes that focus on natural childbirth techniques, to hypnobirthing classes that promote relaxation and empowerment, there are various options to suit different preferences and needs. Hospital-based classes, online classes, and specialized classes cater to specific circumstances and provide valuable information and support. Choosing the right childbirth class allows expectant parents to gain knowledge, build confidence, and forge connections with others going through a similar experience. It is important to explore the available options, consult with healthcare providers, and select a class that aligns with personal preferences and goals for the birthing experience.
The information is presented as a general guide to present information on the different types of childbirth classes available. It is for informational purposes only. The information provided is not intended to be the only information available about the different types of childbirth classes available. The material provided is not expected to be a substitute for advice or information from your physician or health care provider.
If you have any questions, concerns, fears, apprehensions, unease, or worry about the different types of childbirth classes available contact your health care provider immediately.