An ultrasound, whether it's during pregnancy or other medical conditions, provide valuable information to doctors. They are an integral and standard part of medical care, particularly for pregnant women. An ultrasound report result allows doctors to monitor the growth of the baby and detect complications and abnormalities.
They are also vital for predicting the due date and determining whether a pregnant woman is carrying multiples. Plus, gynecologists use ultrasound to see and assess the placenta's position and the gender of the baby.
But how often can you get an ultrasound or how many scans are safe to take during pregnancy are important questions to consider. If you're expecting a baby and have these questions in mind, we have the valuable information to find the answers.
What is an Ultrasound
Ultrasound is an imaging or scanning technology. It uses resonance and sound waves to produce a bounce in the womb's fluid and create images. An ultrasound technician or a doctor places a wand (transducer) in the vagina or belly to emit sound waves.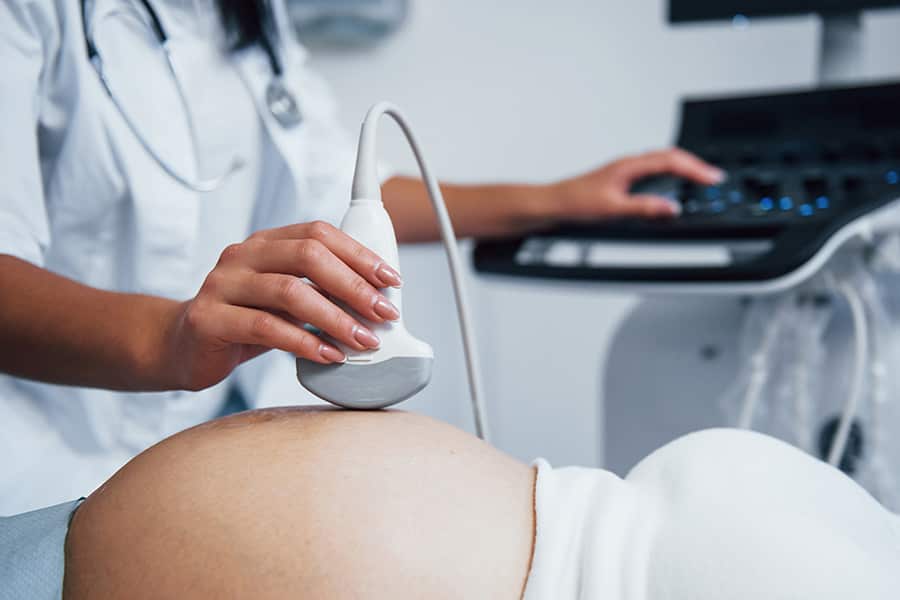 The echo of waves typically produces movements in the bones, tissues, and fluid of the baby. Then, it picks up the waves and echoes to translate an image of the fetus parents can see on the computer screen.
During early pregnancy, the ultrasound scan confirms pregnancy location and the fetal heartbeat. However, in later stages, the sonography reveals placenta location and fetal growth. It also shows the general anatomy and health of the baby.
In the final days of pregnancy, sonography or ultrasound scans are very useful to assess the progress and cervix length. It is important as doctors need to confirm that you're not in preterm labor. Final stage ultrasounds also verify if the fetus is in the right position (head-down), which is one of the major requirements for vaginal delivery.
Keep in mind that an ultrasound scan, regardless of its stage, doesn't hurt. You might feel a little messy or cold when the transducer touches the belly because of the gel on it. To-be mommies should wear two-piece clothes to allow quick and easy access to the tummy.
You may also not see a clear image of the baby during the initial phases of pregnancy in an ultrasound report. It gets clearer overtime, usually around 12 to 13 weeks, making it an ideal time to reveal your loved ones' exciting news.
How Many Ultrasounds You Get When You're Pregnant
The number of times you need to do an ultrasound may vary depending on how complicated your pregnancy is. Here is an overview of typical ultrasound scans you may undergo while expecting.
Ultrasound during Early Pregnancy (6-8 Weeks)
Generally, you may have your first ultrasound or sonogram after 6 to 8 weeks of your pregnancy. Many doctors consider conducting this test only if there is any risk in your pregnancy. These may include your history of miscarriages, defects, abdominal pain, and bleeding.
Your doctor may conduct the first ultrasound transvaginally to obtain a clearer picture of the fetus. If this is the case, the doctor will place a wand-like transducer to transmit high-frequency waves through the uterus. The sound waves send signals to the machine to make reflections of an image of the fetus.
If it is a six-week pregnancy ultrasound, it is possible to listen to the baby's heartbeat. Your practitioner can also track milestones, predict the due date, and find the fetus's number in the womb. At six weeks, doctors can also whether your pregnancy is ectopic.
Dating Ultrasound (8 to 13 weeks)
You may undergo a "dating ultrasound" if you skip the early pregnancy scan. It takes place around 8-13 weeks of pregnancy. The sonography scan provides the same information as due date, "crown-rump length" of the baby (measurement), fetal heartbeat, and babies' number.
Anatomical Ultrasound (18 – 20 Weeks)
This is a detailed ultrasound that generally takes place between 18 to 20 weeks of pregnancy. It usually lasts up to 20 to 50 minutes if you're pregnant with one baby. If you're going to have twins, triplets, or quadruplets, the ultrasound may take a little longer.
At this stage, doctors do a thorough checkup of the baby by assessing his/her heart rate and abnormalities in the brain, kidneys, livers, and heart. Doctors also count the baby's toes and fingers, examine the placenta, and measure amniotic fluid levels.
How Many Ultrasound Scans can You Get or Are Safe?
It is worth mentioning that ultrasounds are safe for t baby and mother when conducted for medical purposes.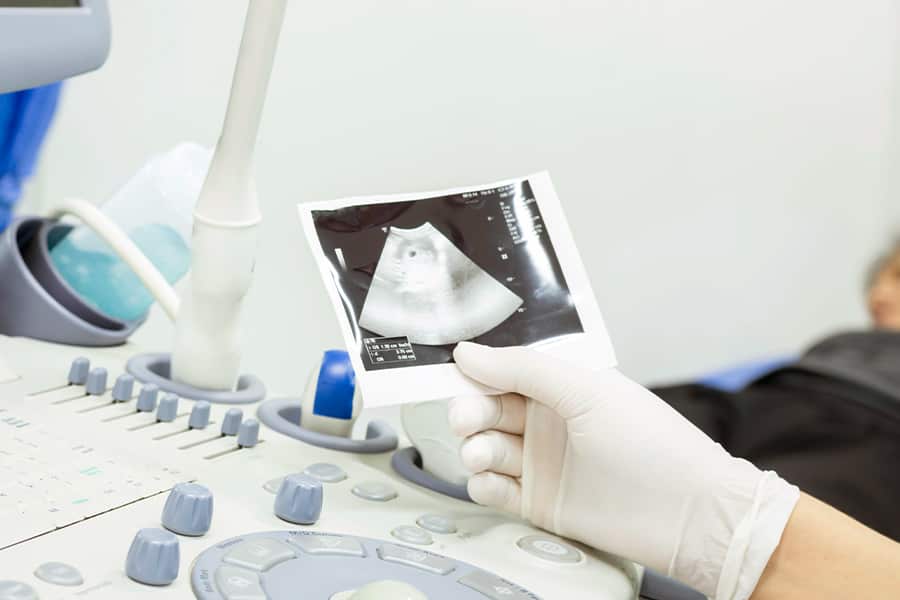 Although ultrasound scanning requires no radiation, only professional technicians who specialize in interpreting the results accurately should conduct it. Preferably, an ultrasound technician has a certificate in obstetrical ultrasound from the American Institute of Ultrasound in Medicine.
Moreover, ultrasound scans are safe to conduct but only in a medical setting as they may heat the tissues. Sometimes, an ultrasound machine produces bubbles or cavitations during the test.
According to experts, the heat and cavitations might have a long-term effect on the baby, especially when performed without a medical need. Therefore, medical professionals emphasize performing a sonography or ultrasound scan only when a patient requires it for a medical purpose based on a doctor's prescription. Also, you need to make sure that only a trained professional performs it.
Key Takeaway
While many women expect at least three ultrasound scans during pregnancy in the first two trimesters, there are several reasons doctors prescribe for more. Ultrasounds are crucial when monitoring the growth of the baby. It is normal to become anxious with the idea of undergoing more screenings or conducting tests beyond your routine checkups.
The ultrasound scans are safe for your health, and you can get them 5 to 6 times during pregnancy as per your doctor's recommendation. However, make sure you discuss unforeseen issues pertaining to your pregnancy and the effects of an ultrasound scan on the baby.
If you have any questions, concerns, apprehensions, unease, or worry about your fetus' development contact your health care provider immediately.