Staying physically active during pregnancy is beneficial for both the mother and the developing baby. Regular exercise can help improve cardiovascular health, boost mood, manage weight gain, enhance muscular strength, and promote overall well-being. It is essential to choose exercises that accommodate the changes in the body during pregnancy. In this blog, we will explore some safe exercises that can be practiced during pregnancy.
Walking:
Walking is a safe and accessible exercise option for women at all stages of pregnancy. It helps improve cardiovascular fitness, strengthen leg muscles, and maintain a healthy weight. Start with short walks and gradually increase the duration or distance as tolerated. Aim for a brisk pace; the goal is to be able to maintain a conversation while walking without being overly breathless.
Prenatal Yoga:
Prenatal yoga is a gentle form of exercise that focuses on stretching, breathing, and relaxation techniques. It helps improve flexibility, maintain good posture, and reduce stress. Look for prenatal yoga classes or follow online videos specifically designed for pregnant women. Remember to inform your instructor about your pregnancy to ensure modifications are provided when needed.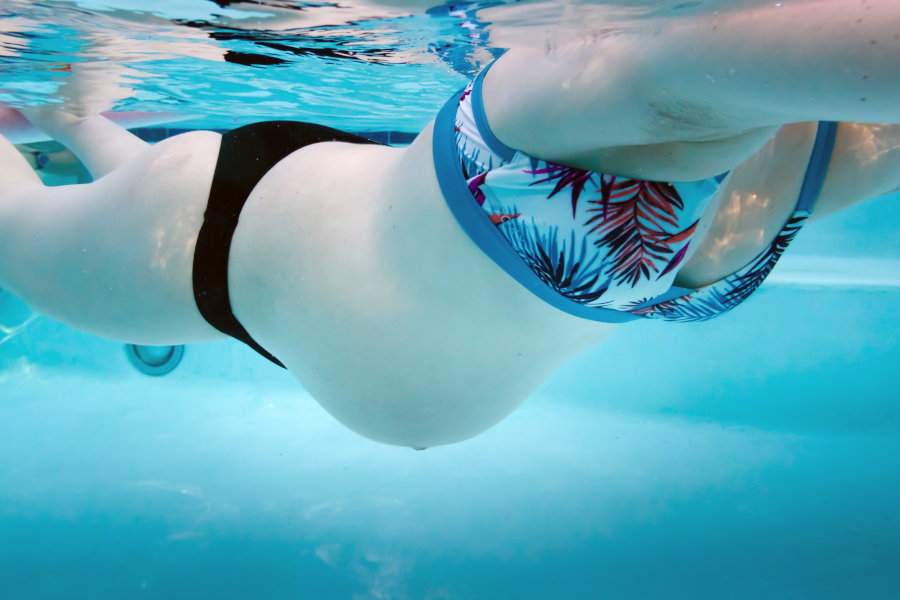 Swimming:
Swimming is a low-impact exercise that provides a full-body workout without putting stress on the joints. It helps strengthen muscles, improve cardiovascular fitness, and alleviate swelling or discomfort. Swimming and water aerobics are particularly beneficial during the later stages of pregnancy when the buoyancy of the water can relieve the pressure on the joints.
Prenatal Pilates:
Prenatal pilates focuses on strengthening the core muscles, improving flexibility, and enhancing posture. It helps maintain stability and balance during pregnancy, which can be especially helpful as the body undergoes physical changes. Look for prenatal pilates classes or modified exercises specifically tailored for pregnant women.
Stationary Cycling:
Using a stationary bicycle or participating in a prenatal spin class is a safe way to get a good cardiovascular workout during pregnancy. It is a low-impact exercise that helps strengthen leg muscles and improves endurance. Adjust the bike's seat height to ensure proper alignment and avoid excessive strain on the joints.
Low-Impact Aerobics:
Low-impact aerobics classes during pregnancy provide a fun and safe way to stay active. These classes typically involve low-impact movements, gentle choreography, and modifications to accommodate the changing needs of the body. It is important to avoid exercises that involve jumping or sudden changes in direction to minimize the risk of injury.
Pelvic Floor Exercises:
Pelvic floor exercises, also known as Kegel exercises, help strengthen the muscles that support the bladder, uterus, and rectum. These exercises can help prevent urinary incontinence, prepare for labor and delivery, and promote faster recovery postpartum. To perform a Kegel exercise, simply contract the pelvic floor muscles as if you were stopping the flow of urine. Hold for a few seconds and release. Repeat this exercise several times throughout the day.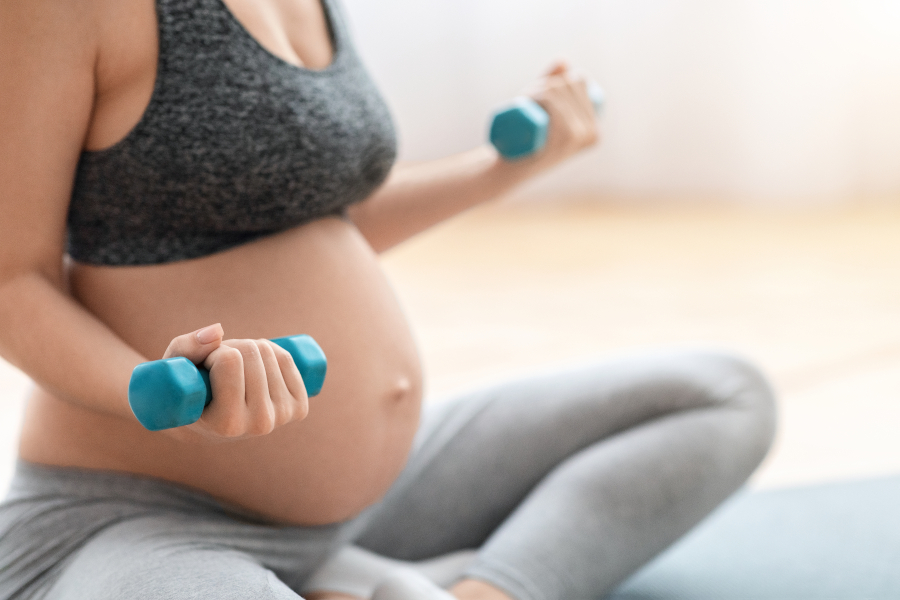 Modified Strength Training:
Strength training can be safe during pregnancy when done with proper form and appropriate modifications. Focus on exercises that target major muscle groups, such as squats, lunges, modified push-ups, and bicep curls using light weights or resistance bands. Avoid exercises that involve lying flat on your back after the first trimester, as it can interfere with blood flow to the uterus and blood returning to the heart.
Stretching and Relaxation Exercises:
Stretching exercises help improve flexibility, reduce muscle tension, and promote relaxation. Perform gentle stretches for the major muscle groups, paying special attention to the lower back, hips, and legs. Incorporate relaxation techniques such as deep breathing or meditation to help alleviate stress and promote a sense of calm.
Consult with Your Healthcare Provider:
Before starting or continuing any exercise program during pregnancy, it is essential to consult with your healthcare provider. They can assess your individual situation, provide specific recommendations, and address any concerns or limitations you may have.
Staying physically active during pregnancy is beneficial for the mother and the developing baby. Engaging in safe exercises helps maintain cardiovascular fitness, muscular strength, and overall well-being. Remember to choose low-impact activities, modify exercises as needed, listen to your body, and consult with your healthcare provider. By incorporating safe exercises into your routine, you can enjoy a healthy and active pregnancy journey while reaping the numerous benefits that exercise has to offer.
Improve your stamina and heart health.
Reduce the risk of pregnancy complications.
Boost your mood.
Lower blood pressure.
Ease back and pelvic pain.
Just take care when you hit the gym and avoid any moves that may worsen backaches (or create new ones).
Fight fatigue.
Improve sleep.
Relieve constipation.
Lower the odds of delivery complications.
Speed post-delivery recovery.
The information is presented as a general guide to present information about safe exercise during pregnancy. It is for informational purposes only. The information provided is not intended to be the only information available about the value of safe exercise during pregnancy. The material provided is not expected to be a substitute for advice or information from your physician or health care provider.
If you have any questions, concerns, apprehensions, unease, or worry about safe exercise during pregnancy contact your health care provider immediately.